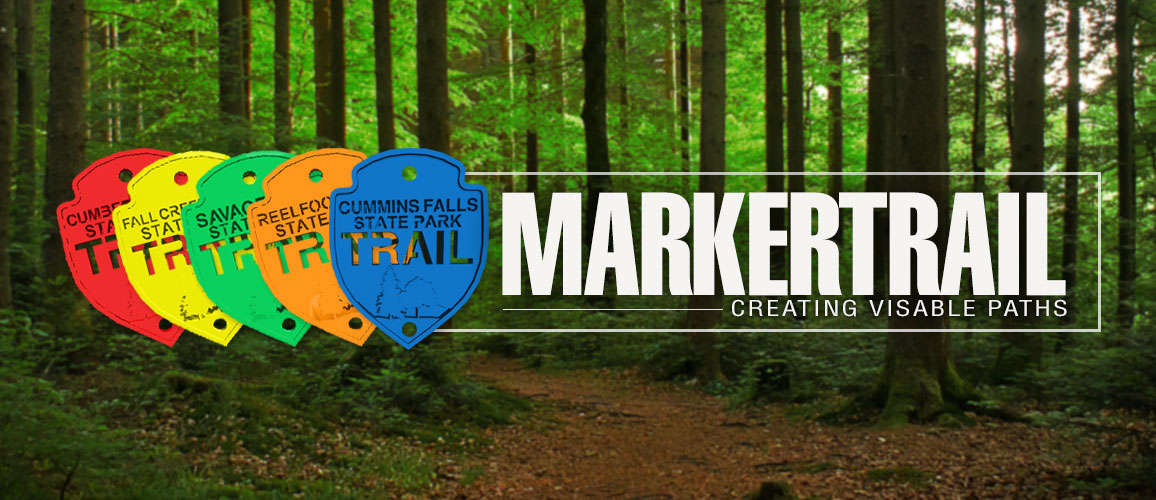 TRAIL MARKERS
Markers are 3.5" tall
Markers can be made in a variety of colors to separate trails
Larger markers can be made for trail heads and trail entrances from streams for better visibility.
Made of shock resistant recyclable material.
The Mile Markers show distance along the trails. These are made for trails longer than 1 mile.
BENEFITS OF TRAIL MARKERS

Creates another nice image for our Tennessee State Parks.
Park visitors can distinguish what trail they are hiking.
The trail marker color can be used to help narrow down location if there is an emergency. The "Mile" Markers can help shorten the search when given during an emergency.
HOW MANY MARKERS PER TRAIL?
A good way to figure the amount of markers for each trail is to base the amount on 20 markers per half mile. More may be needed if the trail is new or has many bends or switchbacks in an area. Consider using 10 markers per half mile if the trails are well worn. This will still give enough along the trail for visitors to know which trail they are on and how far on the trail they are.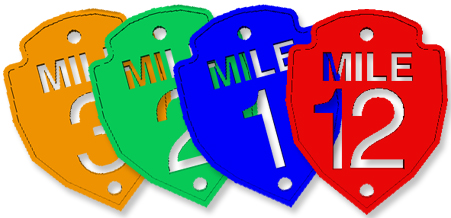 Extra markers on a trail serve as reminders of which trail the visitor is hiking should they need any assistance that requires locating the person/s.
COST SAVINGS

No purchase of paint annually.
Cut in man hours for remarking trails every few months or yearly.
ATTACHING MARKERS TO TREES
The markers have two holes for attaching along the trail. This helps keep theft of the markers lower. We suggest using 2.5" aluminum ring roofing nails. These nails are toothed to help prevent the nail from backing out.
If a tree should fall and need cut a chain saw will have no problem cutting thru the nails with little worry of dulling the chain.
You may want to consider 3 1/2″ star bit screws. These have the advantage of being let out to allow for the growth of the tree.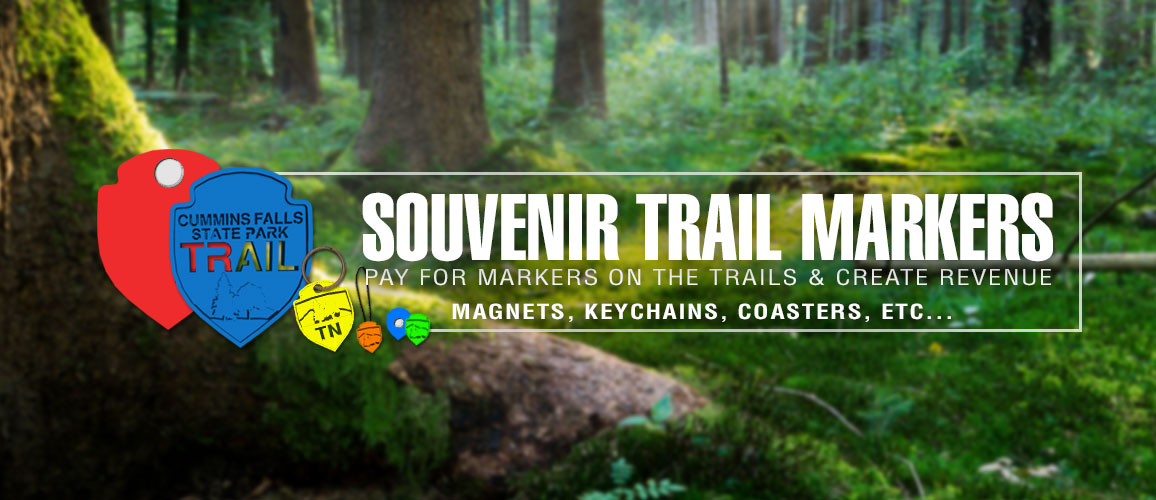 SOUVENIR MARKERS – Park Visitors Like Souvenirs!!
Markers on the trails cost money. The Souvenir Markers can pay for themselves as well as the markers on the trails and generate revenue.
Souvenir markers are magnetic and that makes them great for refrigerator memories. These are slightly smaller at 3 inches tall to reduce cost and to increase profit for the park.
A variety of different souvenir markers are being considered in addition to the magnet markers. Items like Marker Keychains, Hiker Markers, Sticekrs and more may also be made available for souvenirs. 
NOTE: Some items may no longer be available and new items are being considered continually. Prices for additional souvenir marker items TBA.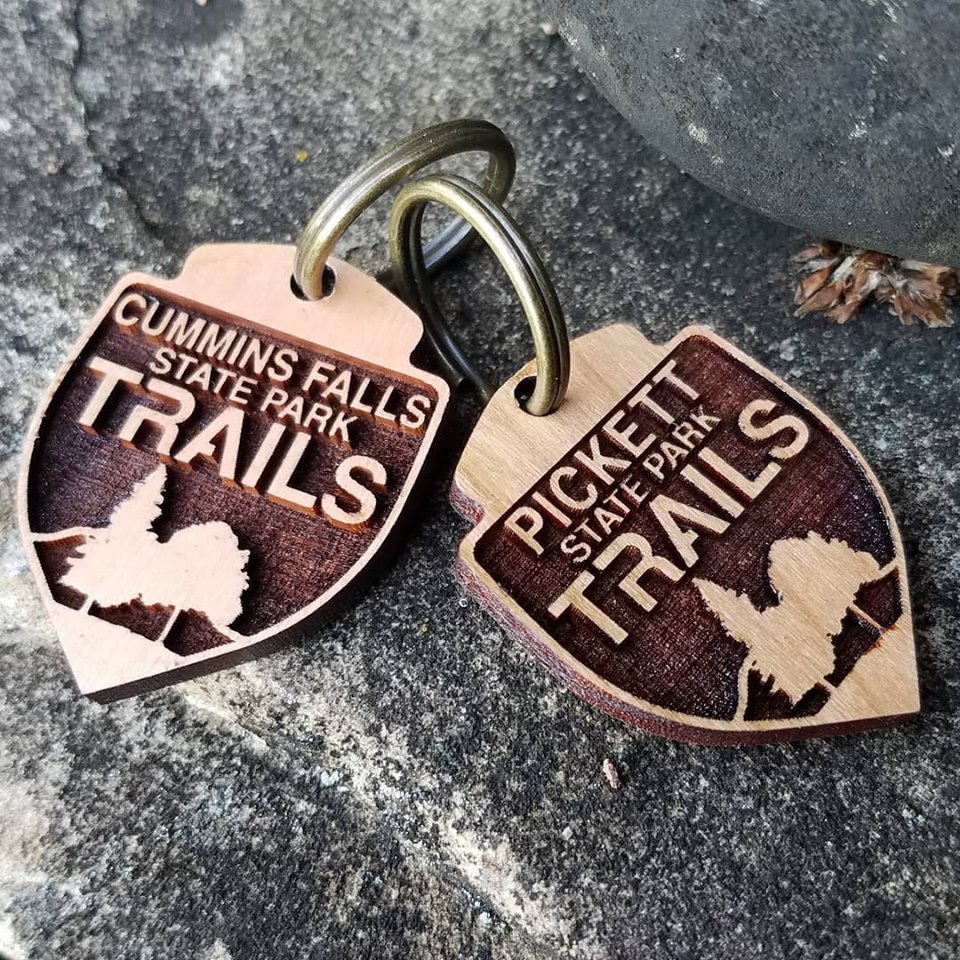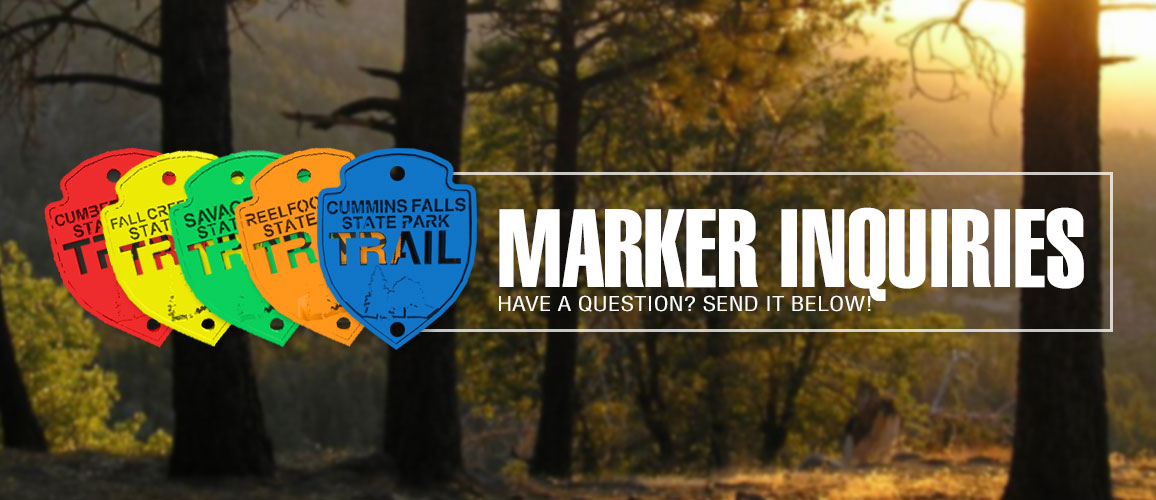 Contact using
info@markertrail.com
Promotional Media!!
click on an image, right click on the larger version, save as and post